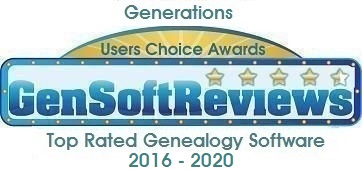 by Sierra On-Line, Inc.
Generations was a popular program that Sierra developed. They purchased Reunion for Windows from Leister Productions around 1997 when Leister wanted to only continue their Mac version. Sierra developed the program until 2002 when they sold it to A&E, the parent company of Genealogy.com. Broderbund produced and distributed the software for Genealogy.com, but a couple of years later, Genealogy.com dropped Generations, Family Origins and Ultimate Family Tree in favour of their number 1 product, Family Tree Maker. A comprehensive site of information for Generations users is still maintained by Mike Hobart.

Unsupported • Windows • Full Featured • Builds Website
http://web.archive.org/web/20011025033626/www.sierrahome.com/products/...
Overall
17
4.75
2018
4
5.00
2017
1
5.00
Earlier
12
4.45