Ultimate Family Tree (UFT)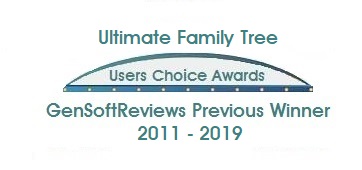 by Palladium Interactive, Inc.
Ultimate Family Tree was developed in 1997 when Palladium combined the ease of use of its Family Gathering program with the power and capabilities of the ROOTS software it purchased from CommSoft. UFT became the standard for other programs to achieve. In 2003, Ultimate Family Tree was purchased by Genealogy.com, who dropped it in favor of their Family Tree Maker software.

Unsupported • Windows • Full Featured • Builds Website
http://web.archive.org/web/20020906135607/http://www.uftree.com/UFT/UF...
Overall
37
3.70
2018
0
No Ratings
2017
4
3.52
Earlier
33
3.95